A Brisbane 1920s Inspired Home Is Going Viral On Reddit
Just when everyone thought early 20th-century look has been put to timely rest, Australian photographer Nicolette Johnson dug it up and brought it back to the limelight. Johnson's pics of her Brisbane home went viral on Reddit within hours, and for a good reason: clean, chic, and creative, this decor masterpiece embodies coziness and sophistication, and each of the pieces Johnson used to replicate the feel of bygone times came with a surprisingly affordable price tag.
Desk Space For Dreaming Awake
Nature meets clean lines in this little Scandinavian inspired home office. With a large succulent perched in an oversize dimmed-glass bottle, a sheepskin casually thrown across the chair, and a handful of potted plants overlooking the desktop, this is a perfect backdrop for every would-be writer to come up with a riveting plot for their next story. The feathery dream catcher is a perfect finishing touch evocative of wild, unexplored lands and half-forgotten folk tales.
Boho Inspired Seating Area
Add a touch of boho-chic to a plain seating area following in Johnson's footsteps. With art paintings and ethnic-inspired accessories crowded on the wall, this casual living room looks fit for a queen and king of fine living. Brass candelabra can be used as an eye-catching table centerpiece, contrasting tastefully against dark-hued fabrics and ethnic-inspired throws. A dark wooden table with soft varnish will pair nicely with retro furnishings, creating a classy focal point in the room.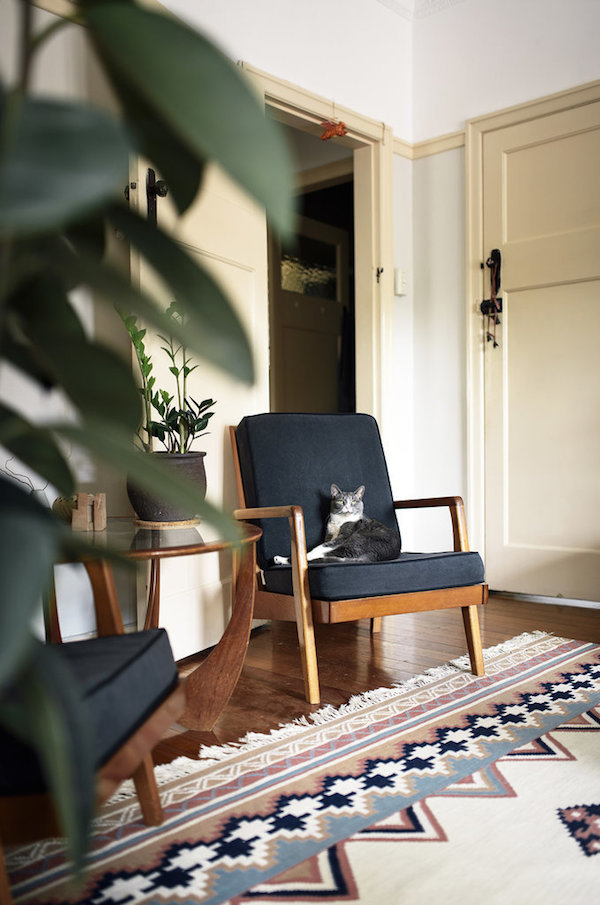 Vintage Kitchen Revamped
Vintage furniture can add a nostalgic feel to your home: simply throw in a wooden cabinet in the kitchen and line the shelves atop it with clay pottery and quaint-looking bowls. This cute corner looks as if it was transplanted straight from a Swiss cottage, and the odd potted plant further emphasizes the unity of interior design and nature.
A Whiff Of Nature In The Kitchen
Plants thrive in this cute little kitchen: foliage tumbling down over the sink adds a note of freshness to the minimalist sink area. Organic details and potted plants love humidity, so if you cannot fit them elsewhere in your apartment, you might as well plop them along the windows in the kitchen.
Minimalism In Broad Daylight
The minimalist dining area in this charming home balances out multitude of visual details in the living room and kitchen. The barebones look stands out on the décor scale but it does not compromise the apartment's retro feel. With table, chairs, and flooring made completely out of natural materials, the sun-lit dining room is functional yet homely.
Wake Up In A Flood Of Light
The bright bedroom with a low bed offers a similar contrast to the visually richer desk area, and macramé and Delftware-inspired artwork on the walls complement blue linens and natural vibe of the boudoir. If you want to recreate this laid-back feel in your master bedroom, though, installing panel track blinds may be a good idea, at least for privacy's sake. For an impression of added space, you can follow Mrs. Johnson's lead and add a mirror next to the sleeping area.
A splendid work done there, Mrs. Johnson! This amazing décor is a true well of design ideas for proud homeowners. Has your home gone dull with wear and tear? Feel free to borrow inspiration from this cool apartment! You are welcome.
A Brisbane 1920s Inspired Home Is Going Viral On Reddit
was last modified:
March 25th, 2016
by