51 Ultimate Romantic Bathroom Design
Would there be a difference between a regular and romantic bathroom? Indeed there is as the latter may have exclusivity of use because such kind is usually installed adjacent or inside the master bedroom. The ambiance must be relaxing, sensual and extremely intimate, a kind of special pampering oasis. With this purpose, consider the concept of romance-inspired furniture and fixtures together with the light, color and scent.
Furniture & Fixtures of Romantic Bathroom
The so-called romantic individuals would not settle for traditional boxy cabinets and counter tops. Instead, they will chose finishes that will conform to the aura of the bedroom to which the romantic bathroom is connected. If big enough, this bathroom can have a covered shower area as well as a spa style soaking tub, A electric shower can add the extra beauty to the bathroom. Among the choices of fixture to soak in are the free standing tubs or the specially installed tubs such as the alcove, drop-in and under-mount bath tub. Opting to place the tub in the corner, there are variants of corner bathtubs. For the free-standing tub, your options are claw-foot and slipper models. You can also check out the best corner toilet of 2020.
View More : 23 Natural Bathroom Design Ideas
Light, Color & Scent
Lighting is one aspect that turns dreary area into romantic atmosphere; controlling the lighting will make you control the mood of the surroundings. For a romantic bathroom, lights should be warm that would be flattering to the hues of the walls and other accessories in the bathroom.
Your choice of wall and accessory colors can create a drama inside this oasis. You can have analogous colors or you can pick different complementary color tones that produce soothing effects. The color wheel is a good guide.
The ultimate romantic bathroom should be aromatic. Avoid scents of cleaning supplies and instead place floral potpourri or scented diffuser sticks relative to spa experience. You have myriads of designs and there are 51 recommended romantic bathroom ideas.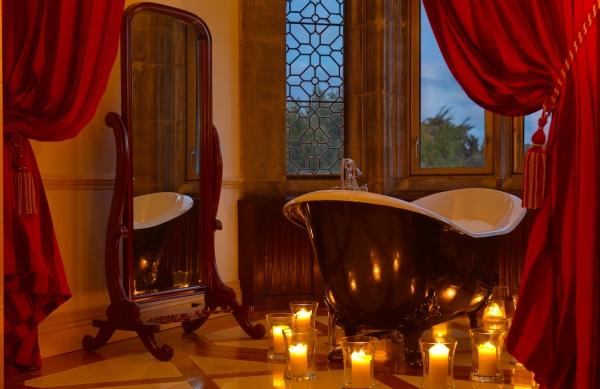 51 Ultimate Romantic Bathroom Design
was last modified:
May 3rd, 2020
by