6 Tips To Make Your Bathroom Renovation Look Amazing
When you deal with your bathroom renovation, you must do something new. Tile installation, normal shower, taps and cabinets are the oldest ideas. Surely you'd want to renovate with things that are more exciting, like freestanding baths from Showersly, for example. Here you can find something different and creative for your bathroom renovation that will look amazing:
How to start the bathroom renovation?
The renovation is not related to small amount expenditure. You need to spend a large amount because besides the wall colour, you have to reinstall the plumbing system, design the cabinets, use the best quality items like Eastbrook that will last you a long time and you have to install the bathroom attachments also. So before starting the renovation, you must ensure the expenses and you should ask the renovator about the estimated price. Then you have to clear about the concept and tell them about your requirements. If you change your plan at the middle stage then you have to spend an additional cost too. So decide about the whole renovation and list the requirements accordingly and then tell them directly. They will show you some of their previous works and you can choose the templates from their collection also. Else you can also customize your bathroom designs, and make the architectural design by the professionals. Some people also find having a new toilet is integral to creating a truly magical renovation. The reviews at Helpful Habitat may be able to help you find the right toilet for your new bathroom.
Collage Wall Art
you can use some collage wall art on your bathroom wall. You must use some contrasting colours and also use separate colours on the different walls. The dull look of the bathroom wall is the ancient art and now people experiment with bold colour. Even you can install some image tiles.
Image Source By Cindy Smetana Interiors
Image Source By Utopia LifeStyle
Fixture
It is not necessary to install the bathroom fixture according to the wall colour. Use some different metal fixtures like wooden or stainless steel fixture. Also, customize some attachments. There are some additional attachments available in the market, which can be installed in the modern bathroom, like a wall hanging a cabinet or you can remodel your bathroom cabinet with the shower case also.
Image Source By Marisa Daly
Hang The Photo Frame
There are some photo frames available which are water resistant and you can hang these frames on your bathroom wall. Wallpaper or wall art can be used on the bathroom wall and additionally, you can install some art or canvas according to your bathroom wall colour, and make the bathroom like the art place. You can purchase these wood photo frame from the store. But if are thinking to make these photo frame by yourself then you must need some equipment which can help you to make these frame. You might have some equipment, but you will love to add a Yonico Router Bit in your equipment. It will help to give a perfect shape to wood slates while cutting them.
Image Source By Chango & Co
Image Source By Sarah Greenman
Add Window
Most bathrooms do not have any large window. But you can make a window in your bathroom with colourful curtains and design the window frame with stylish attachment. But the privacy level of your bathroom must be maintained, and you can install a false window, which looks like a large window, but in reality, it is a small one as earlier.
Image Source By Luke Cartledge
Bathroom Cabinet
Install some storage cabinets in your bathroom. Most of the bathroom cabinets look very dull and they are installed in a separate zone in the bathroom. You can install some designer cabinet with mirrors in your bathroom as wall attachment, and it will save your space and make your bathroom space large.
Image Source By College City Design Build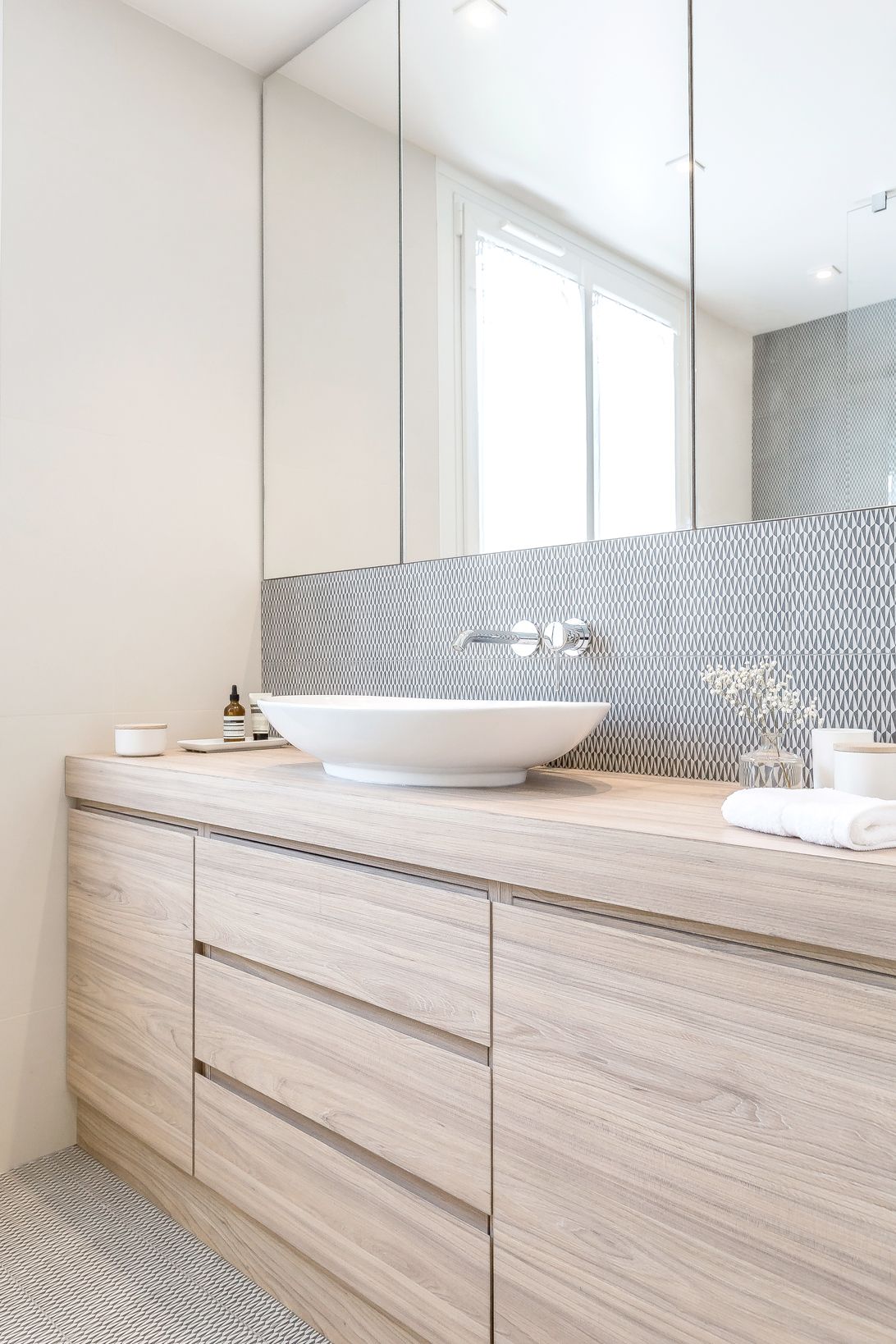 Image Source Sheer Luxe
Light
Ceiling lights are very old styled so replace these lighting systems and install the new light attachments on the wall of your bathroom. The new LED lights are ideal for modern bathrooms, and they will save your electric consumption too. So you can try it also.
Now bathroom renovation has become easy with the online bathroom designers, and they will show you the best designs that you can choose from their website instantly.
6 Tips To Make Your Bathroom Renovation Look Amazing
was last modified:
May 22nd, 2019
by