Your home's exterior is the first impression into what lies ahead behind the closed doors. If you've taken a few seasons off and feel that it's too big a task to undertake, think again. With a couple of simple updates, minor repairs, a fresh coat of paint and the addition of lawn seed like Nature's Finest grass seed, you can create an outdoors you'll be proud to own.
Clean The Backyard First
Before going to the local gardening center and purchasing two of every lawn ornament they have, focus on the real task: the cleanup. A yard neglected for even a year can accumulate abandoned flowing pots, overgrown foliage, cracked paths, chipped and worn paint, bare lawn spots and weeds. By de-cluttering you'll start with a clean canvas ready for your personal touches. Once you have the yard clear of debris you can begin the process of removing the weeds and trimming back the trees and shrubbery.
Next, if you have a front porch, check on all sides to make sure the wood does not have any soft spots, the steps are safe and that the paint is intact. If everything appears in fine shape then a scrubbing with soap and water will help to remove the dirt, grime and mildew that's collected. On the other hand, if you have any signs of a compromise of the infrastructure you'll need to repair the damage. Extend this to the gutters, siding, roofing, outdoor plumbing and decking. This not only improves the look of your outdoors but also gives you peace of mind and protection against the elements.
Mary Jean & Joel E. Ferris, II House By Spokane Midcentury Photography By J. Craig Sweat Photography Inc.
Small Changes That Make Big Difference
If your budget doesn't allow for major changes like a new door, new steps, a fence and expensive plants, there are still many inexpensive ways to increase the appeal without the cost. Changing out older hardware is an excellent way to give your home an updated look for a few dollars. Combine that with a fresh coat of paint in a contrasting color to your home's exterior and you'll also add the "wow" factor.
Backyard With Beachview Project By Carson Arthur
Complement The Space With Few Choice Accessories
If you keep things simple most times it works out in your favor. There's nothing wrong with adding a few ornaments around your home's exterior to personalize the space if you keep it simple. Overdoing it by adding 3 fountains, a wishing well and a variety of statues can cause the opposite effect and take away from your home's appeal. Simple yet elegant, neat and vibrant are things that catch the eye. A few extras like a freestanding adult swing, a fountain, and matching statues keeps the space open and inviting for guests.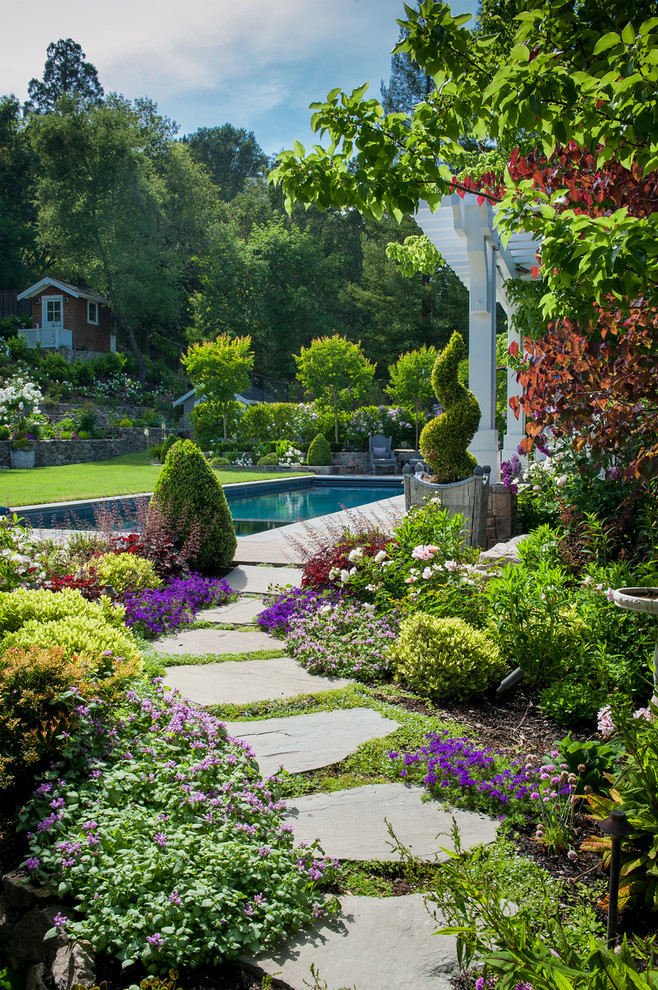 Neo-Traditional Cottage Project By David Thorne
Plants & Flowers
You have a clean environment, a beautiful entryway but, somehow it still doesn't have the look you wanted. Plants and flowers greatly impact the appearance of your outdoors. Overdone, they look tacky. However, with a selective color palette that blends and extends itself into the fencing, steps and front porch, you'll achieve the perfect complement and finish to your masterpiece. If you are not sure of how to arrange or even what to choose, your local garden shop can usually with a little bit of information from you guide you in the right direction. Follow this up with a lush, green lawn and you'll have a wonderful outdoor space you'll enjoy all season.
Small Backyard With Outdoor Fireplace By Artistic Landscapes
Adding curb appeal not only creates an attractive space you're proud to call your own, it also adds resale value to your home as well as your neighbors. With a little work and creativity, you can enjoy the benefits all season.
4 Best Backyard Landscape Ideas & Green Your Home Now
was last modified:
April 23rd, 2018
by