26 Spa Inspired Bathroom Decorating Ideas
There is no question that the bathroom is one of the most important places for our private use. This is especially true for the bathroom that we have in our bedroom. In this article we are going to give you 26 spa inspired bathroom decorating ideas. Even if you are not able to get all of them for your bathroom, a fraction of these ideas being implemented will be more than enough for your needs. Your bathroom will be much more like a spa once you make some changes.
Art that Promotes Serenity
Bathrooms are often overlooked when it comes to adding wall art. However, the right wall décor can transform your bathroom into a spa-like space. Hang wall art that utilizes a soft color palette composed of cool colors. Look for subjects like nature, candles, and water scenes.
Leave room for a nice full sized mirror – Image Source By
Top inspirations
Image Source By Marsh & Clark
Allow natural light to come in – Image Source By Tearte Digital
If you're looking to update your bathroom for cheap, then there's a range of different things you can do without breaking the bank. One of the biggest impacts you can make is to fit a freestanding bath with modern bathroom taps, freestanding taps are considered one of the best options if you really want to add a touch of luxury.
Along side swapping out the bath you can look to fit a frameless shower enclosure or walk in wetroom style area, these are very cost effective and are very common in spas to open up the room considerably (they're also much easier to clean!).
Good bathroom tiles are another simple solution to modernising a bathroom, you don't have to pick the most expensive ones out there, but spend a little more than the basic amount to find a high quality tile design that will stand out in your bathroom.
Hang a nice painting – Image Source By Flemington Granite
Image Make sure the mat and the towels are fluffy & – Source By Residence Style
Be stylish with artificial lighting – Image Source By Home Wallpaper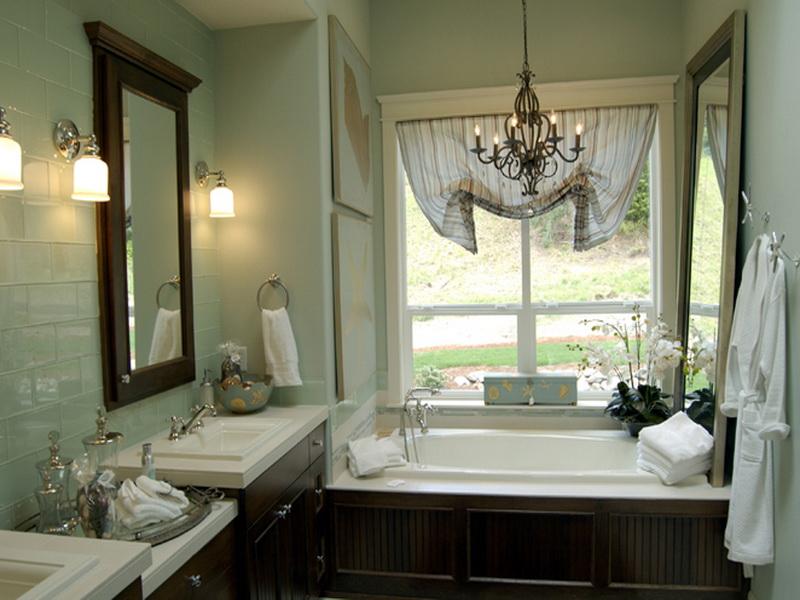 Have a window looking into a garden
Use easy to clean decorations – Above 5 Image Source By Art Of The Steal
Image Source By Liz Williams Interiors
Image Source By Residence Style
Image Source By Design Shuffle
Build a spa style bench – Image Source By Besch Design
Place a nice sculpture near the door – Image Source By Oberoi Hotels
Wooden floors for warmth – Image Source By Kkaa
Use wood accents – Image Source By Ds2003
Be minimalistic – Image Source By Imagen Subliminal
Image Source By Robin Pelissier
Bring plants into the bathroom – Image Source By Omni Hotels
Image Source By Pursuitist
Image Source By Home Wallpaper
Separate sections of the bathroom – Image Source By Arch Interiors
Roll soft towels and place them in perfect place – Image Source By Art Compose
Get some candles – Image Source By Hotel Avenue Lodge
26 Spa Inspired Bathroom Decorating Ideas
was last modified:
March 3rd, 2021
by