If you are an lover of interior design like me, than it's place for you. To collect some beautiful pictures for you, like carpets, antique or new furniture from other website & Pinterest is definitely my biggest source of interior inspiration. This one is second part and you can visit my first post of Residence Style Inspiration Of The Week.
You do not need to be an interior designer or architect to have penchant for beautiful homes and rooms. Anyone who wants to have his own abode will always dream of a residence style house that has a cozy bedroom, relaxing bathroom and inviting living room. Conceptualization of this will not be left on an interior home designer because you have your own ideas of your dream home.
But where do you get those ideas? There are home magazines and websites that showcase various residence style inspirations one can copy or adapt. You can pick one concept from one designer then integrate into it another idea. In the end you put various ideas together to come up with one that is better than what you have seen from your reference magazines or internet sites.
PALE PERFECTION
This neutral colour palette, with its punctuation of soft pink, is a look we love. Images from Vogue Living Australia May/June '14 issue via Sf girl by bay. Photography by Raul Candales.

Carlo e Camilla in Segheria Milan Restaurant (Via)
Housed beneath the cathedral-like ceilings of a 1930s sawmill is Carlo e Camilla in Segheria, Milan's most glamorous dining destination.

Restaurant so Luxuriantly Adorned with Graffiti (Via)
One artistic project of design Studio G-sign for a fast-food restaurant, which is so luxuriantly adorned with graffiti, wall drawings and design installations that in the end becomes more like refine gourmet place, where one can meet with friends and family, instead of just having a quick bite.

Home Tour With Emily Waldmann (Via)
Emily is the special events director at the most gorgeous Hotel St. Cecilia, and though she hails from the Pacific Northwest, she's called herself an Austinite for a few years now.

Residence Style Bedroom
If you a have a huge bedroom space, picking a design for a residence style bedroom is no big deal. You can install huge wardrobe cabinets. A walk-in closet is a great extension of the bedroom. You can have a sitting room on a corner and a separate reading area in one sector. All the ideas you find in photographs can become your cozy bedroom.
But what if your space is one that is odd-shaped? The limited space can constrain you from putting in your desired furnishings and furniture. A floral curtain can be suspended in one wall; this can be the direction of the headboard.  Side table can be fitted into the small vacant space between the bedroom wall and the bed. This is for a small space and it is also easy to facelift. But what if your area to be converted into a truly stylish bedroom is asymmetrical or irregularly shaped? The challenge is enormous but there are lots of photos to get ideas from.
REDESIGNING AN ODD SHAPED BEDROOM (Via)
Redesigning a room is never easy. Redesigning an asymmetrical room welcomes additional challenges that some may be scared to tackle.

A charming home in Sweden (Via)
The bedroom is predominantly white: only the small table and the bedspread are not white. Image Credit : Danielle de Lange

Redesigning a Bathroom
It may now be time to reinvent your bathroom. This room is as important as the bedroom. When this room is a part of big bedroom, very few can see its beauty. You do not allow all people to get inside this house part yet you still desire to make it a dream residence style bathroom. One of the important furnishings is the bathtub which today comes in many forms, styles and shapes.
Here are the five most common bathtub types for your fabulous bathroom.
Alcove tub
Drop-in bath tub
Free standing tub
Corner bathtub
Undermount bathtub
Kos Geo Bathtub (Via)
Geo Line is a range of products that reinvents bathtub design in morphological terms – created to define new forms for basins of water and reinvent the bathroom ambience.

BEAUTIFUL HOLIDAY HOMES ON THE GREEK ISLAND OF SYROS (Via)
Athens-based architecture studio Block 722 designed these two holiday houses on the Greek island of Syros. Image Credit : Syros I. Photo © Ioanna Roufopoulou.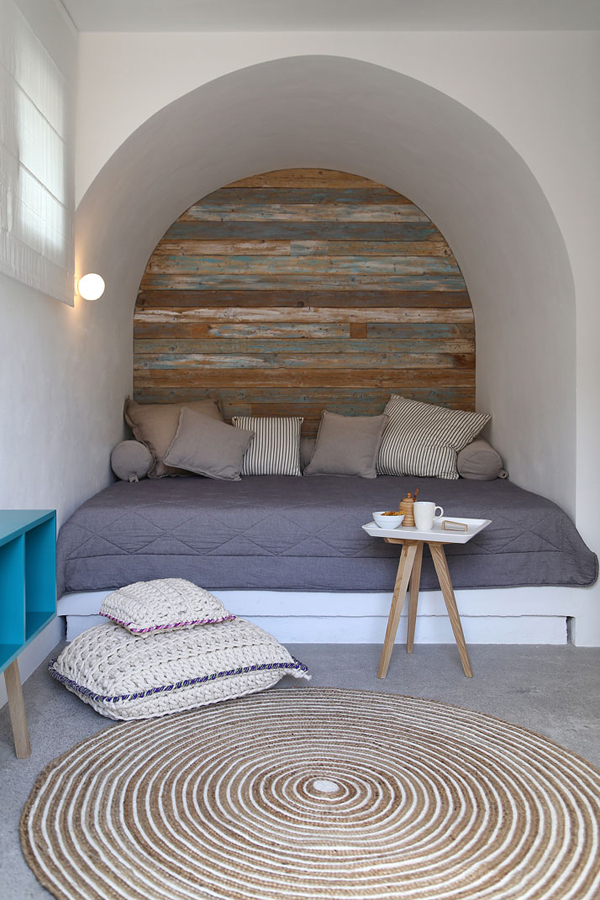 Sofa Designs For Living Room
The heart of a living room is the sofa. Among the dream types of sofas for the living room are those that were created by Roche Bobois. The materials for the sofa are colorful and really attractive. These are big in size with many pieces for a set.
Who is Roche Bobois?  He is a French and is known worldwide for furniture designs.  The works of Roche Bobois include a wide range of made-to-order furniture. The products have exclusivity and are customized in European workshops. Though this furniture designer is very popular with sofas, other furniture in the line consists of cocktail tables, armchairs, dining chairs, beds, wardrobes and more. You can be assured that the furniture ordered from Roche Bobois is premium quality and are definitely residence style and state-of-the-art furniture.
You can never be stopped from aspiring for a home that is residence style inspired. You can start searching and compiling ideas from magazines like Vogue and more internet sites.
Modern Sofas by Roche Bobois
Roche Bobois is a well known French company for it's contemporary style of furniture.

Residence Style Inspiration Of The Week #2
was last modified:
September 12th, 2015
by