Make Your Bathroom Design Perfect By Follow 4 Simple Tips
The design is more than just a room you visit every single day; it is a place for relaxation and rest, where you can enter after a long day at work and finally feel at home. There are great benefits to be had from designing a good looking bathroom that has not only utilitarian uses, but makes you feel comfortable and relaxed. Go after practicality but also style.
In order to make the most out of your bathroom, you have to make sure it is equipped with the right features. While this is often times a question of taste, it should come after careful consideration of what works best and what makes you happy. You want not only pleasing and stylish looks, but also easy cleaning service when it is needed and convenient practical uses. Here are some of the key features of a bathroom design that you need to consider:
1) Tub :
There is nothing quite like taking a relaxing bath after a long and tiring day. Your bathroom can become your personal getaway to an exotic place with the right bath tub in it. Before you choose a model, you have to take into account the space of the room and what size tub you can fit in there. You don't want to squeeze in a big tub and leave no space to move around as that would greatly limit the options in your bathroom. Sadly, if you have a small bathroom to work with, perhaps it is best to just give up the idea of a tub. You can always consider a small tub though, which presents easy cleaning service opportunities and can still serve as a comfortable spot in your bathroom.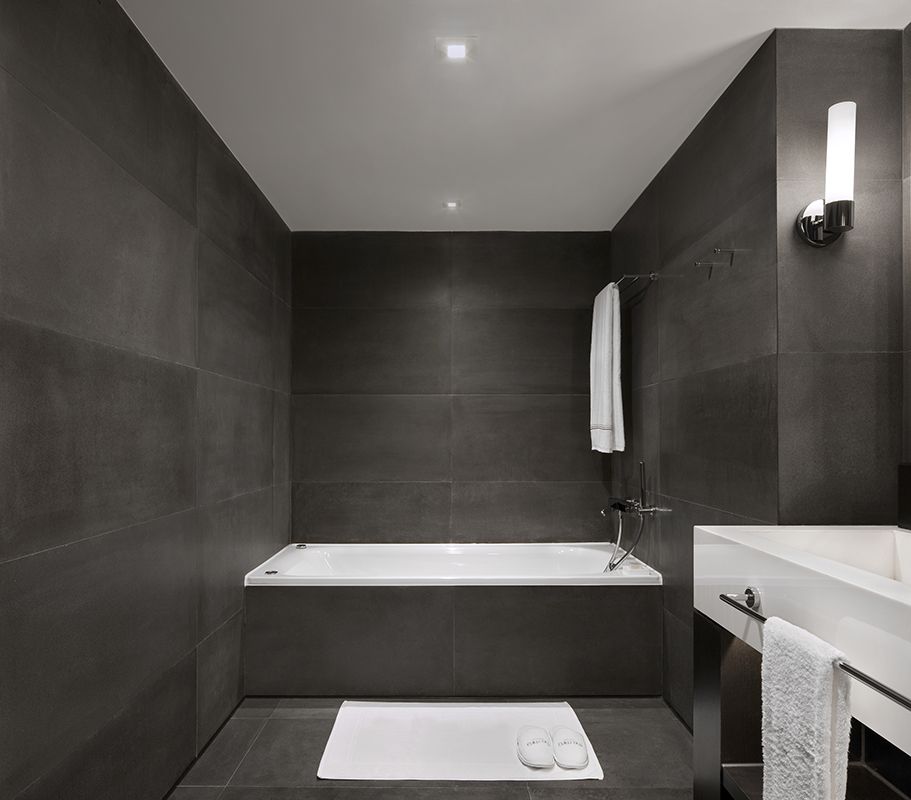 2) Shower :
This is certainly one of the most popular solutions for any bathroom, because it is easy to install and, more importantly, easy to fit. If you have a bathroom with sloping walls, that is no problem for showers, because there are certain models that can easily do the job even in such unusual conditions. You can choose whether you want an enclosed area with doors, which is typically what most people are after. Keep in mind this will take some of the space and will require cleaning too.
3) Vanity :
This element of the bathroom is very important, because it sets the accent and is basically the focal point of the room. Go for a model with enough room for storage, as this may be the only furniture you fit in there. You will be thankful for the space when you start arranging your cleaning supplies and shower gear inside. Double vanity is a good option also, if you have a large enough bathroom.
4) Mirror :
Another essential element of the bathroom. Usually the mirror synergises with the bathroom vanity, and they go together, but if that is not the case, you have to take into account certain guidelines: size of the mirror should correspond to the size of the vanity; carefully consider whether your mirror will come with a frame; what components will be used for mounting, as some elements might be visible and require cleaning service.
Definitely devote some time in selecting the right design for your bathroom. Only by doing this you can design an area of your home that is truly comforting and beautiful.
Make Your Bathroom Design Perfect By Follow 4 Simple Tips
was last modified:
November 17th, 2015
by