Decorate Outdoor Space of Your Property
Home decoration can be an exciting task, but at the same time, it can increase your stress. Things can be difficult if you want to decorate outdoor areas. However, this project can enhance your living experience and make your property more functional. Remember, you can't ignore the outdoor spaces, like a patio, small garden, backyard, etc. If you are confused about property planning for decoration, JKBD Property Planning Consultants can help you. On the other hand, if you haven't decided what to do with your outdoor area, here are numerous ideas that will help you to utilize your small space in a better way:
Decoration of a Small Yard
If you have a small backyard, then there is no need to feel disappointed because you can decorate it in a better way with the right balance of colors and textures. It will help you transform your smaller space, and you can enjoy a spacious feel. In addition, you can turn it into a useful area like a small garden or reading corner.
For instance, you can keep plants in different ways, such as if the ground space is limited, you can use gardening wire to attach the flower pots. You can keep flower pots on the vertical surface because they will make your backyard look really spacious. Make sure to give a natural look to your plants with the help of trellises.
Additionally, it's a good idea to pick plants that grow easily and are meant for hanging. For instance, string of hearts or orchids are commonly placed in hanging pots instead of traditional ones. Planting these greens will enhance the appearance of your yard without crowding it.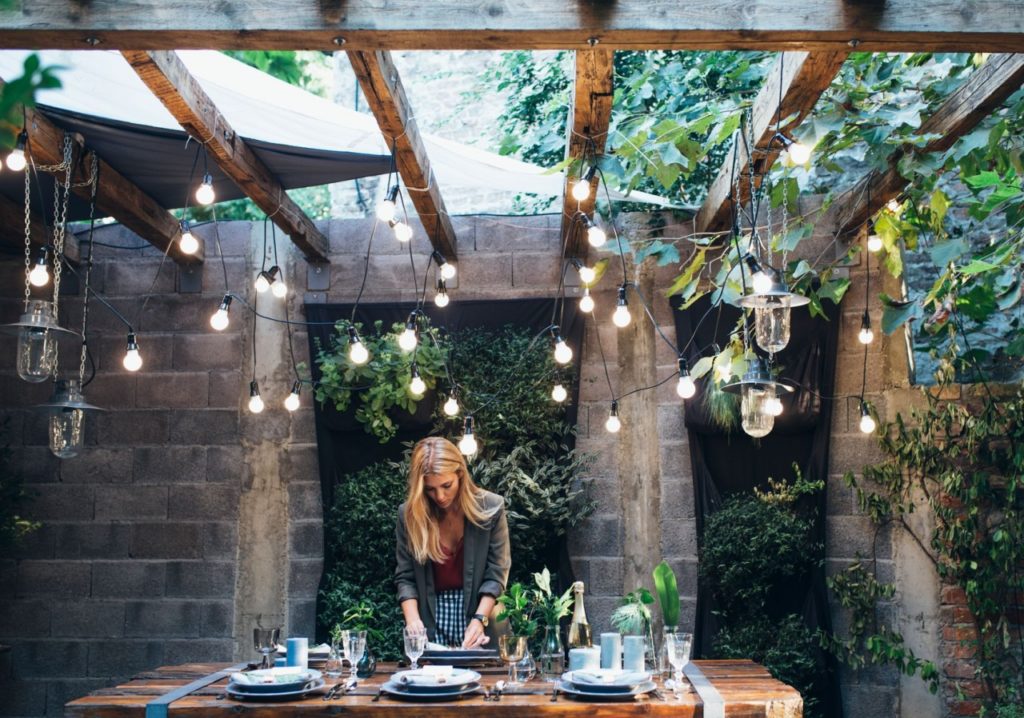 Small Patio Decoration Ideas
If you have a patio, even a smaller one, you are a lucky person. You can maximize the small patio by decorating its environment. Try different things, such as decorate the walls of the patio. Arrange a soul spa for some relaxation and small old furniture. You can transform the look of your patio by selecting attractive wall colors. Paint all roof posts, beams, garage, and shutters to give a wider look to your patio.
If you want to see more greenery in your outdoor area, you can hire a turf installer
to provide artificial grass. It's a great alternative to a real grass lawn since you don't need to worry about your patio looking dry or dull when seasons change.
Decorate Small Patio for Christmas
If you want to make the most out of your outdoor space, you can decorate it for special occasions. For instance, you can hold your holiday celebrations outside your house so that you'll have more room to move around.
You can start to evaluate the space of your patio and then select the decorations for Christmas. Try to choose those items that have minimal footprints and increase the size of your patio. It will be good to buy colorful decorations according to the Christmas event. Try to arrange multipurpose chairs or seats to facilitate your guests.
You can try bright colors on the walls of the patio. Make a Christmas tree and decorate it with the help of all decoration accessories. On the patio, you can use wall cabinets and get additional space to store essential accessories.
Additionally, you can get string lights and hang them on the walls to add more illumination and design to your outdoor space.
Minimalist Style Decoration
If you want to focus on minimalist style decoration, you need to remove clutter from your house. It will increase your living space so that you can utilize it in a better way. This style is equally good in modern homes with a white and black color palette.
If you want to get more space, then there is no need to paint your space with dark colors. Try to choose a light palette or mix a dark and a light color. Light colors, artwork and shelf decoration will help you to increase your living space. Additionally, you can donate things you no longer need so that they won't go to waste. You can also convert them into other items you can use to decorate your patio or yard.
Kitchen Combo + Living Room
If you are forced to live in a tiny house, there is no need to worry because you can maximize the space of the tiny homes by trying different options. You can get the advantage of the living room and kitchen combination. A partition can separate a portion of the living room and convert it into a beautiful kitchen.
Decorate Outdoor Space of Your Property
was last modified:
February 18th, 2022
by