Some homeowners overlook bedroom decor; in their mind it is a room seen only by its occupant. Considering that you spend a big portion of the day in this room, it should be a priority space to decorate. Additionally, the appearance of your bedroom may affect how well you can rest and impact your overall well being. Hence, it can be a great idea to invest in designing a welcoming and appealing bed space. Some think that big bedroom is easier to decorate to become a dream bedroom. But a small room can also be such and at times may even be a better looking dream bedroom than a big one.
It Is Easy To Make A Dream Bedroom With A Big Space.
A big bedroom can accommodate a lot of heavy and plush furniture that must match all the decors in the room. You can also add accessories to the room to make it more stylish. When picking decorations, you should consider how they'll blend with the rest of the space. Keep in mind that the bed is the centerpiece; you can cover it with duvets in neutral tones. You can use colorful linens but the neutral tones are easier to complement other accessories. Furthermore, colours like cream or white are more appealing to the eyes, which may help make you feel more relaxed.
Have a couch in a corner for reading or you can have a small living room-alike set to have a cozy area. If you love to sleep in darkness, you can accessorize your windows with custom roman shades or other window treatments with blackout lining. Read with a lampshade. Other pieces of furniture inside the room are wardrobes, armoire, chests and other fixtures. Install carpet for flooring.
If you want to make renovations to your bedroom before decorating it, you can hire a home builder. They can make modifications to the space, like installing shelves or adding a walk-in closet. 
A Small Room Transforms Into Dream Bedroom
For a small bedroom, the first thing to do is de-clutter to allow for space area. This will help you visualise the design you want to do and remove unnecessary items that may hinder your home project. Start with the paints of your walls; white paint will enlarge the space. You may also pick cool and light tones, like pastel blue or cream. Add contrast and texture with neutral pastels for linens. You may also choose curtains that are thin and translucent so that natural light can pass through your windows. This may help make your room appear brighter and more spacious. You cannot have many pieces of furniture and it is a minimalist arrangement. The must-have here is a bed and a clothes drawer. Placement of the furniture is an important consideration and a bed place off the center will make the room look big.
Avoid blocking your doorway when arranging your furniture and ensure you have enough space to walk around. This way, you can comfortably stay inside your bedroom once your room transformation is finished.
Adding stretch canvas on simple wood frames can create an illusion of high ceiling; this too adds dimension to the small space. Bold and large prints and patterns for linens whose color contains the color of your wall and stretch canvas also enlarge your sleeping room. The colors would also be the same as the choice for lamp bases, shades and other room decors. Avoid large wall hangings and instead hang groups of small related frames. Wall mirror is best accent.
You may also install shelves since you can use them as storage space without making your room appear crowded. 
Final Thoughts
You can always create a dream bedroom regardless of the room's size. Follow the tips here in to make your room one of the best, be it big or small.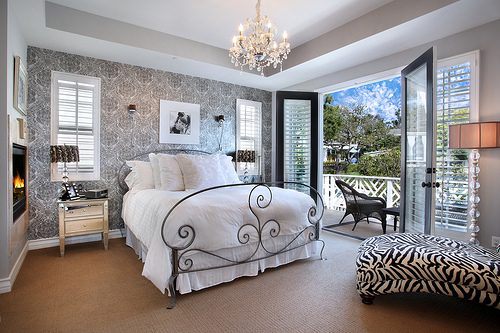 The Bedrooms Of Your Dream
was last modified:
June 16th, 2022
by