Have you allocated a huge space in your house for the family's favorite room? I refer to the kitchen which you want to finish with the most beautiful industrial kitchen designs and equip with the finest cutlery, like Nella Cutlery. At first, you might have misconception when you are presented with industrial designs for your cooking area. What may come into your mind is that your space will look like a kitchen of a commercial restaurant. That is not necessarily the idea behind the industrial kitchen designs.
Industrial kitchen designs are still popular. Know how to choose materials and appliance for these kitchens. Know what combinations are appealing. So if you want to get that nugget ice machine (from a site like https://www.hereon.biz/nugget-ice-machines/) then you can, you just have to make sure that it fits in with the design of your kitchen.
Materials Used In Industrial Kitchen Designs
The main characteristics incorporated in designing an industrial kitchen are the construction materials. These kitchens will have exposed beams that made use of stunning and non-ordinary woods or timbers. Some designers put concentration in the use of rails that are mounted on the walls as well as brick walls that make the kitchen look a bit antiquated. Some designers incorporate rough and old materials you never thought to be aesthetically looking. But you can still stick to the contemporary industrial kitchen if your home is mainly created with contemporary architecture. Take the design of the white industrial kitchen or the contemporary open plan industrial kitchen that made use of bricks and tiles instead of wood and steel.
Cabin In A Mountain (Via)
Awesome Masculine Kitchen (Via)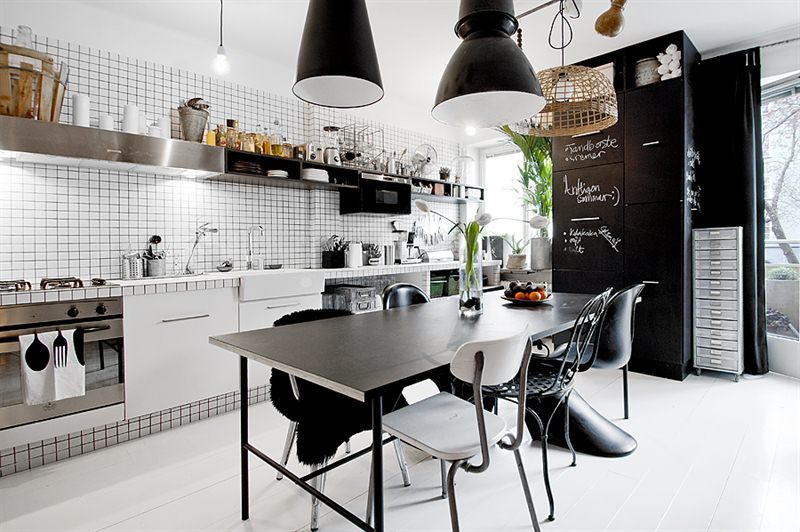 White Industrial Kitchen (Via)
Contemporary Open Plan Industrial Kitchen (Via)
Cool Industrial Kitchen (Via)
Industrial Kitchen With Vaulted Ceiling (Via)
Sophisticated Industrial Home (Via)
Kitchen Space With Wood (Via)
Traditional Country & Sleek Urban Industrial (Via)
French Kitchen Inspiration (Via)
Industrial Kitchen Teal Wall (Via)
Appliances You Will Find In A Kitchen With Industrial Setting
Your choice of appliances will also depend on the selected industrial kitchen designs. If you go for the metal materials, your appliances can be retro-looking. If you favour this commercial look in your kitchen, the industrial kitchen design with metals for appliances will appeal to you. A neat-looking kitchen can also make use of the common white appliances or if you want to put warmth, you can add some color. The little appliances like toasters, juicers, blenders and others can be the motif of your kitchen. As more appliances come in black today, the old "black is beautiful" statement applies, like the awesome masculine, the small pop home design and the sophisticated industrial kitchen. Black and white go together so have your walls in white. If you're interested in finding some information on kitch faucets check out kitchen faucet reviews. My friend told me its a good place to start when figuring out your industrial look. So you can put your personal stamp on it.
Who says that the industrial kitchen designs are no longer popular? They still are, provided you have ample space to create this wonderful kitchen interior.
Rustic Kitchen With Glass Pendant Lamps (Via)
A Small Pop Home In Brazil (Via)
Warehouse Industrial (Via)
Industrial Feel Of The Space (Via)
Building Transformed Into Industrial Home (Via)
The Glass Farmhouse Loft (Via) & Bertoia Chair (Via)
Former Garage in Amsterdam (Via)
Luxury Loft Apartment Kitchen (Via)
Contemporary Black Kitchen (Via)
Yellow House (Via)
21 Most Beautiful Industrial Kitchen Designs
was last modified:
April 9th, 2016
by